From Nov. 25th until Nov. 28th I joined Orange Sports Forum to Glasgow, where we participated at Hostcity. Hostcity is a conference that gathers a few hundred professionals, exhibitors and speakers from the events industry (sports, business and cultural) from all around the world.
Orange Sports Forum
Orange Sports Forum (or OSF) is a platform for Dutch companies that are affiliated to the Dutch sports industry. The forum explores opportunities for its members and facilitates ways to connect to potential customers and markets. I met OSF a couple of years ago during another trade mission to Abu Dhabi and since then we've worked and travelled together a lot.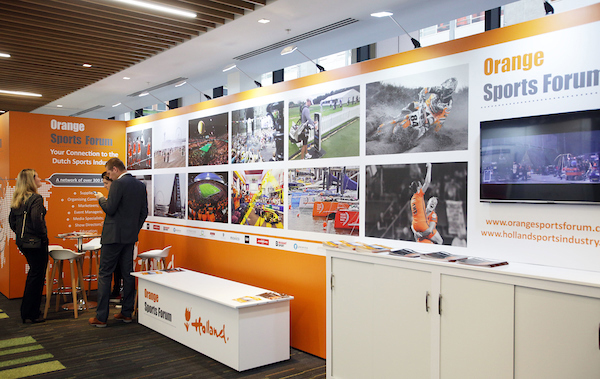 Other members that joined this mission to Hostcity were: BrabantSport, Gracenote Sports, Hemingway Corporate Finance, Jaarbeurs Utrecht, Losberger de Boer, Movico, Saan Trucking and SportBizz. And we were delighted with the attendance of Ms. Patty Zandstra from the Dutch Embassy in London.
Gaelic
Right after arrival, a day before the conference, we were invited to a Welcome Reception at the Drygate Brewery with food and drinks, where Scotland's Eurovision Choir 'Alba' performed for us. It was delightful. I never listened to Gaelic with that much focus before. The language is absolutely incomprehensible for me and it sounds more like Scandinavian than English, but the singing reminded me of angels.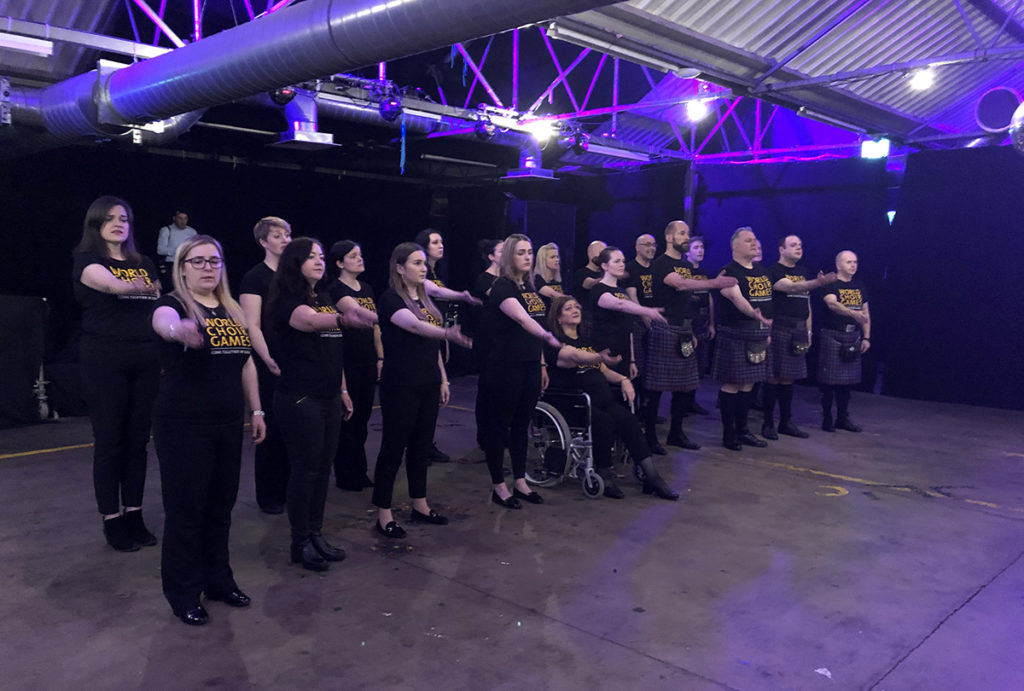 I left to the hotel early, because I had a customer waiting for a campaign and we were expected really early in the morning.
Hostcity First day
At breakfast we met with Robert van den Hoogenband, of BrabantSport and Matthijs Smit of Movico. The breakfast wasn't great, and as the hostess came after me to my room panicking that I had to pay immediately or she would have to pay for my breakfast myself, I decided not to have breakfast in the hotel again.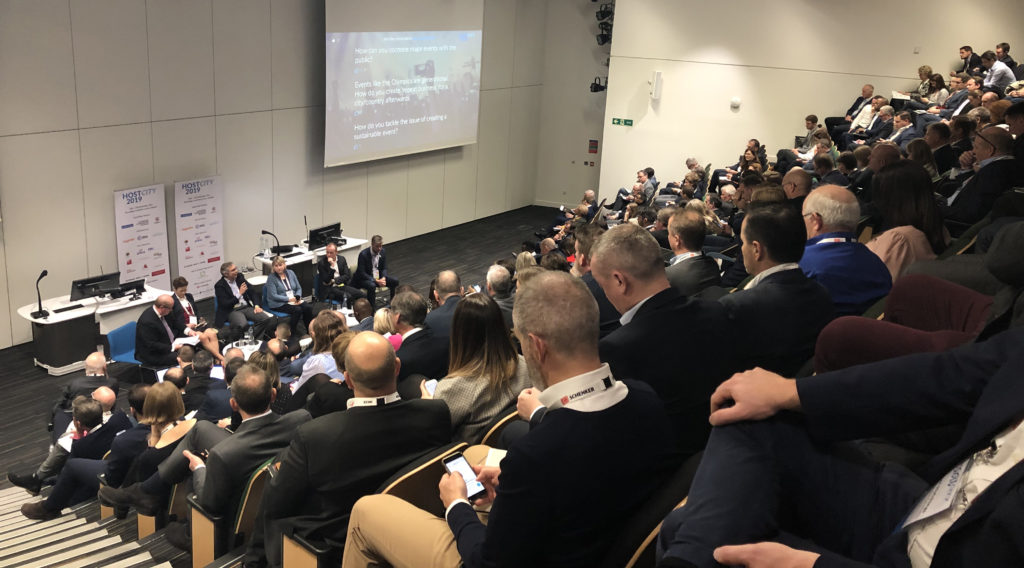 I took my time and missed the opening ceremony. At first sight the exhibition floor seemed limited, but as I found out later, the quality of the attendees was very high. I attended a couple of keynotes and panel discussions in which sustainability in the event industry turned out to be a recurring theme.
Sustainability
As my son actively joins the climate strikes I recently got very inspired by Greta Thunberg. Her great inspiration reminded me of how I used to fight for the environment, animal welfare and a better world when I was a teenager. It opened my eyes on how I have settled with just the basics, like returning bottles and eating a vegetarian meal now and then. She made me realize again that it's not enough. We can't turn a blind eye anymore and we (this generation) have to make real changes in order to keep this world livable for the next generations. I started paying my carbon credits, integrating vegan meals into my diet, choosing products that are produced with respect to the environment and bringing up the topic with friends and clients.
While listening to all these major players in the event industry it struck me that many of them use sustainability merely as a marketing purpose. While we are all wondering if event visitation in the future will even still be possible, the steps that are really taken seem to be limited to initiatives like merchandise made of naturally degradable materials. Every supplier is looking at its competitors and mainly worrying about the economic attractiveness of their offer. While Greta talked about 'fairy tales of eternal economic growth' I am hoping that the striking generation will raise a demand for sustainable events rather sooner than later, so that the organizers start taking real responsibility (why not skip merchandise at all?!). I would love to market that!
Speed Dating for Professionals
I never thought I would attend in a speed dating contest, but as I was trying to put it on camera, I was dragged into a chair and there was no way back. But it was so much fun talking to people you wouldn't necessarily talk to based on their name tag! Three minutes are just enough to learn if there is a possible match an if this is the case, you exchange business cards and continue the conversation later. And I found some unexpected matches, one of which turned out to become a very interesting lead!
Celtic Football Club
Around 15:30 a part of our delegation joined a side trip to Celtic Football Club, arranged by Orange Sports Forum. We were hosted by International Business Development Manager Miguel Pacheco. First we got a tour through the stadium, along the locker rooms and the treasure room. The history of the club is admirable. It was constituted in 1887 with the purpose of alleviating poverty. The club was to raise money for a charity called 'Poor Children's Dinner Table'. This purpose was never lost, Chief Executive of the Celtic Foundation later told us in the boardroom. Many supporters still donate monthly to the foundation, which provides assistance to those who face challenges within the areas of health, inclusion, education and employability.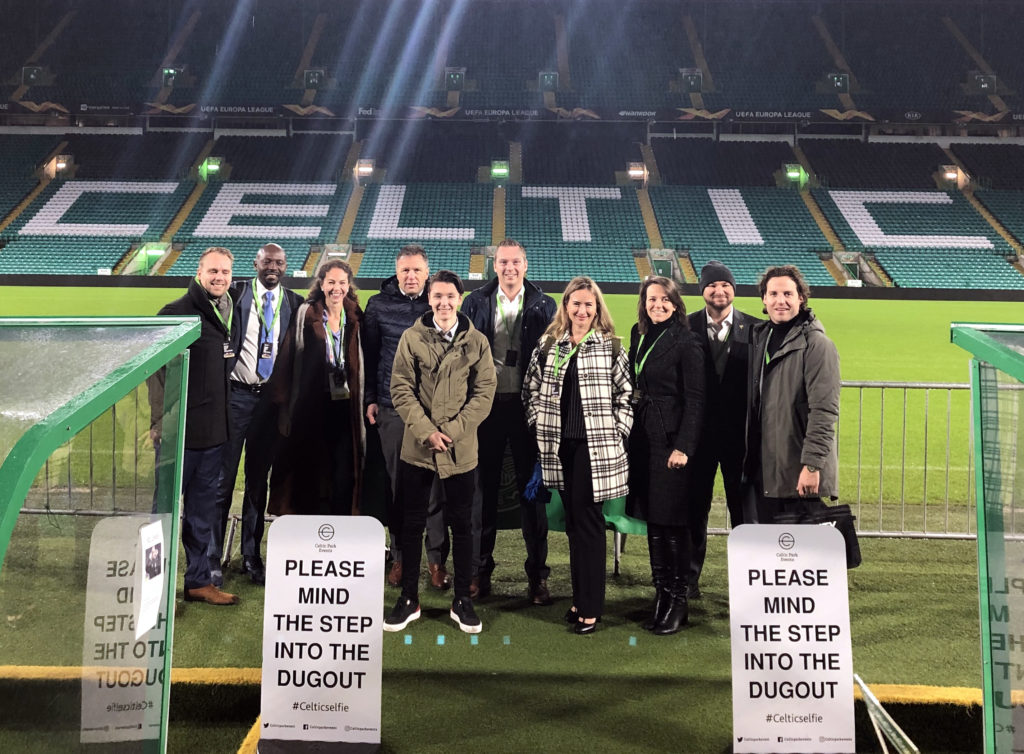 The story moved me and as the atmosphere within the club felt very familiar it seems to pay off in a very loyal fanbase. There is a statue of John 'Jock' Stein (the manager who made Celtic win the first European Cup in 1967) in front of the stadium that quotes "Football without the fans is nothing" and I guess there are many clubs in the world that can learn from this statement.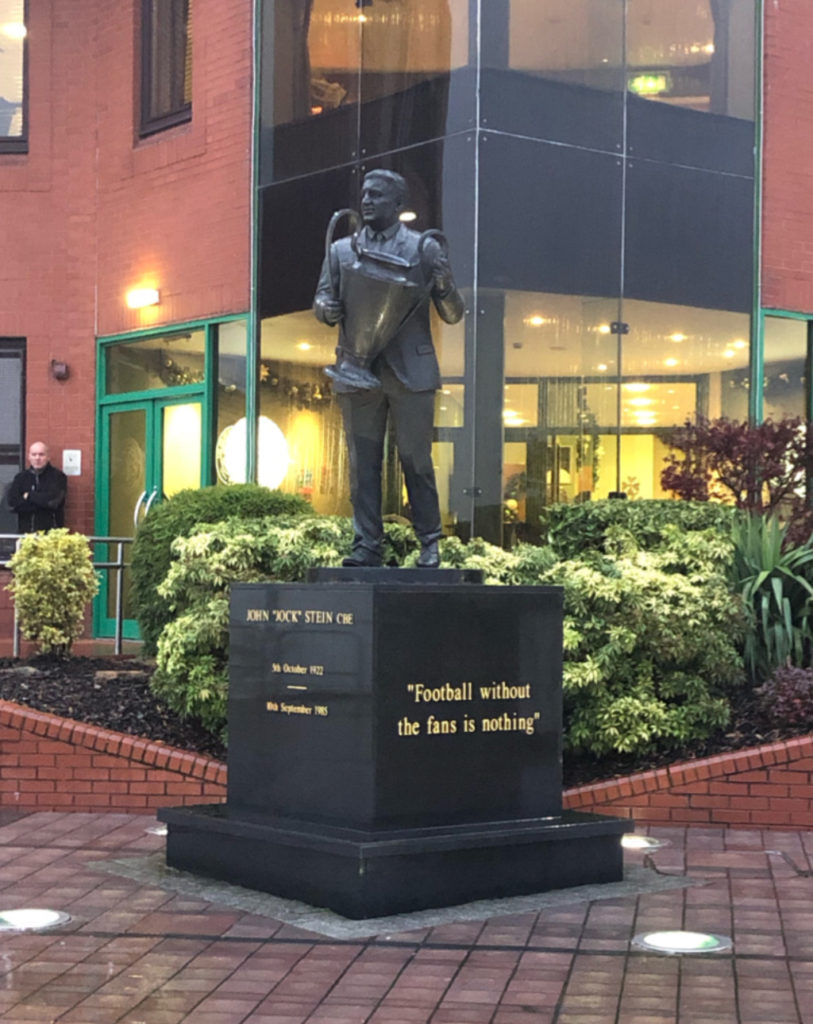 Dinner Reception
After our visit to Celtic, the Hostcity organization hosted a dinner reception at the iconic Corinthian Club, where we had a more informal chance to mingle and get to know the other participants.
Hostcity Second Day
The second day I started with a coffee at Tim Horton's (my Abu Dhabi sentiment), a small salad and lunch. I was feeling a little tired and not too sociable. I attended a couple of other keynotes and two of our members (Movico and Saan Trucking) joined in a panel discussion 'Let's get this show on the road'. Again, sustainability was a major topic.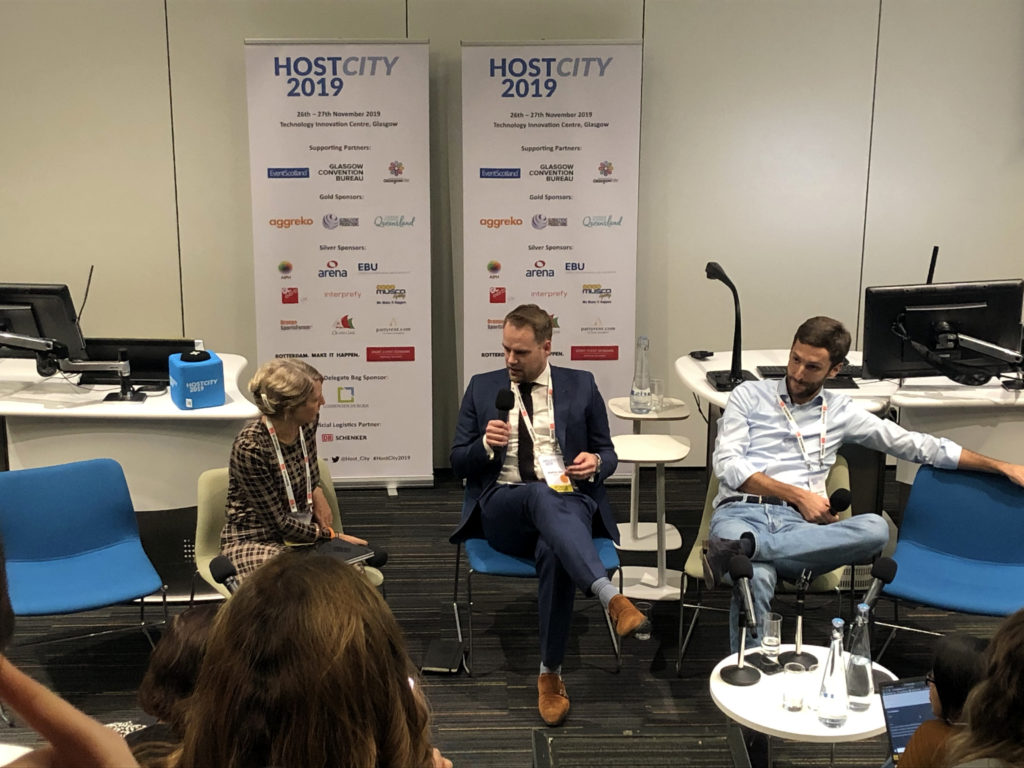 Towards the end of the day, when exhibitors started wrapping up and people started to say goodbye, a couple of new interesting connections were made.
Most Sociable Organisation
At the very end we were invited to attend the ceremony for the Award for 'Most Sociable Organization', which we won (of course due to our social hero Camil Smeulders, who will never miss an opportunity for expanding the OSF network). Camil had a talk, as well as Patty Zandstra from the Dutch Embassy in London and then the conference was over.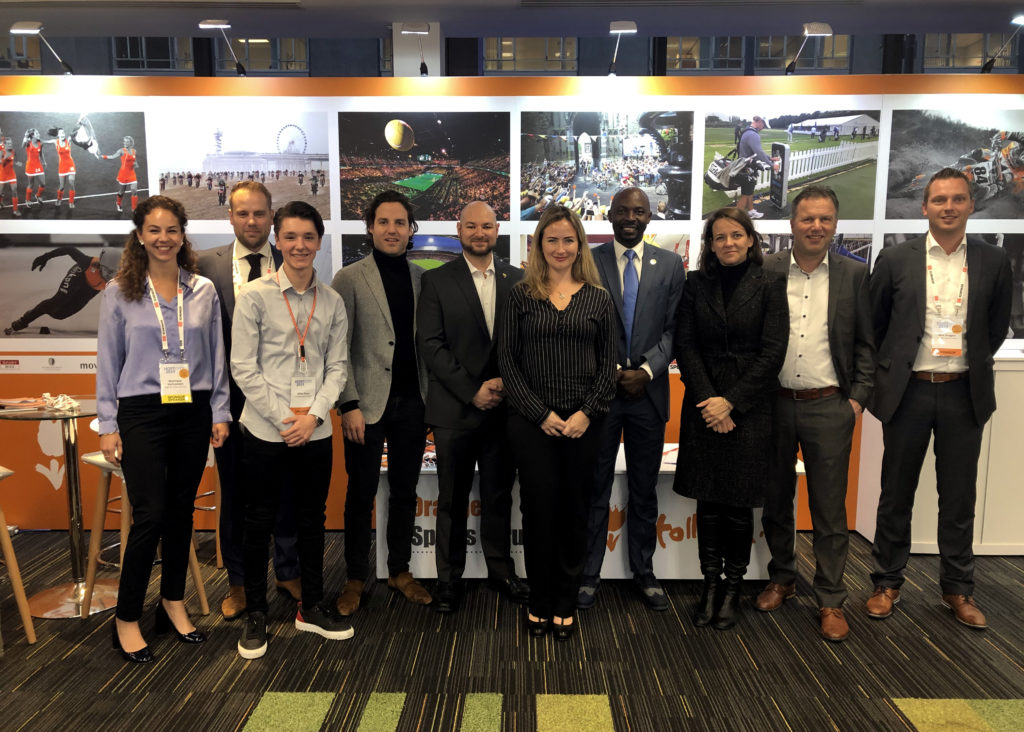 New Business
I still had an interesting lead to follow up on after the speed dating adventure, so I met with my match after closing time. We extended our conversation and it lead to a very interesting opportunity which we have been working on since then. I'd love to share more, but so far it's all confidential.
Ajax-Lille
After our return to the hotel we were invited by Celtic's Miguel Pacheco to watch the match Ajax-Lille in a local pub. I stayed for one drink, but I didn't want to settle for pizza, since my sensitive system has a lot of trouble with food while traveling. I decided to walk back to the city center and experience a little more of the city than just the conference hall.
Finally I had a vegan meal at Wagamama while preparing the speech I was supposed to give two days later. I love spending some quality time with myself when I travel.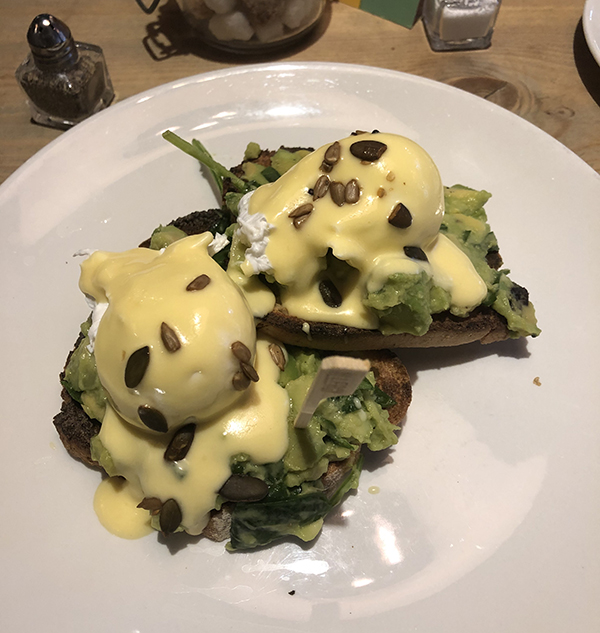 My birthday
The next morning it was my birthday and I took myself to a wonderful breakfast place for eggs and smashed avocado before meeting up with the guys and returning home for a little celebration. Thank you Camil, Rick and Milan, for the wonderful company.