This is my story on how I got fit the first time. I lost about 10 kilos and felt super happy inside my own body, but then I got injured on my heel and shoulder. I had to recover for a long time until all my hard work faded away. Now I am starting again, with new goals, new insights and a new personal trainer.
How I became a 'fit girl'
Around the end of 2014 I started working out in the gym on a daily basis. I had no idea what I was doing, but I experienced it was the best mental therapy to deal with my stressful job of that time. There were some personal trainers working in that gym, who liked to give me tips on my workouts, but I was very stubborn and unwilling to take anyone's advice. Let alone pay for it.
From treadmill to outdoors
I also started running on a treadmill. I'd never ran before in my life. I was always convinced that it wasn't for me. But being able to run 9km in an hour thrilled me and got me excited to try it outside. Of course, outdoors was much harder and I remember not being able to run 5k straight without pausing.
In 2016 I met a couple of 'motivational enthusiasts'. People that preach the religion of Tony Robbins, Les Brown and Robert Kiyosaki. They tend to be overly positive and I found them working in network marketing often times. Nowadays I'm very careful around such people, because I've experienced many toxic personalities under that super positive shell, but in 2016 it was new to me and I was attracted by the atmosphere that felt very stimulating to me.
NYC Marathon 2016
One of them told me he was working on his bucket list and he'd submitted to run the marathon of New York. But he wasn't a fanatic runner at all! When I asked him how he was going to do that, he told me he believed he could do anything once he set his mind to it. I was amazed and told him that I could never do that…so he convinced me I could. And believe it or not, with only a few more months to go I subscribed for the NYC Marathon too.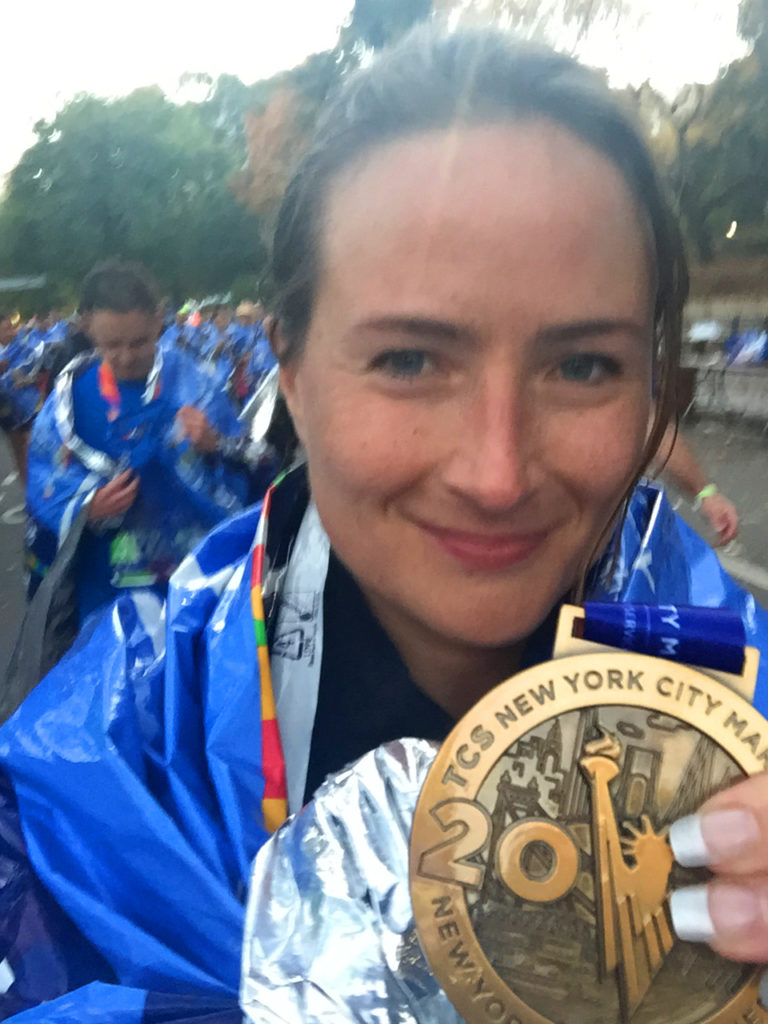 I remember running my first 5k straight right after Ramadan that year (somewhere in summer). I did it on full willpower and visualization of the route. And I kept going, following a strict training schedule. I ran 3 or 4 times per week, with a peak distance on Sundays until I could run 35k and I loved doing it. In November 2016 I ran my first marathon and it still is one of my biggest achievements so far.
Recovery
But of course I got injured. I went from zero to 42k without any professional help and my body was bound to fuck up somewhere. In this case it was my right knee. The last kilometers of the marathon felt like needles were sticking into my leg and getting to the finish was a horror and the months after the marathon I had to see a physiotherapist twice a week.
Personal Training
Another thing that bothered me a lot, was that I hadn't lost any weight during all those months of intensive training. My physiotherapist told me that I needed to go to the gym, to focus on strengthening my muscles and that a personal trainer would help me lose weight as well. When she showed me what a certain method (overload) had done for her, I was convinced. I found a specialized trainer nearby and committed to training a couple of times per week.
Weight loss at last
PT Karen (VET is Nijs) changed my entire view on training and she made me see how much stress I'd exposed my body to. She taught me how to track food and macros and once I really started committing to both food and training (about a year into our program), I finally started dropping weight fast. Between January and April 2018 I lost about 10 kilos and the definition of the muscles that I'd been growing started showing.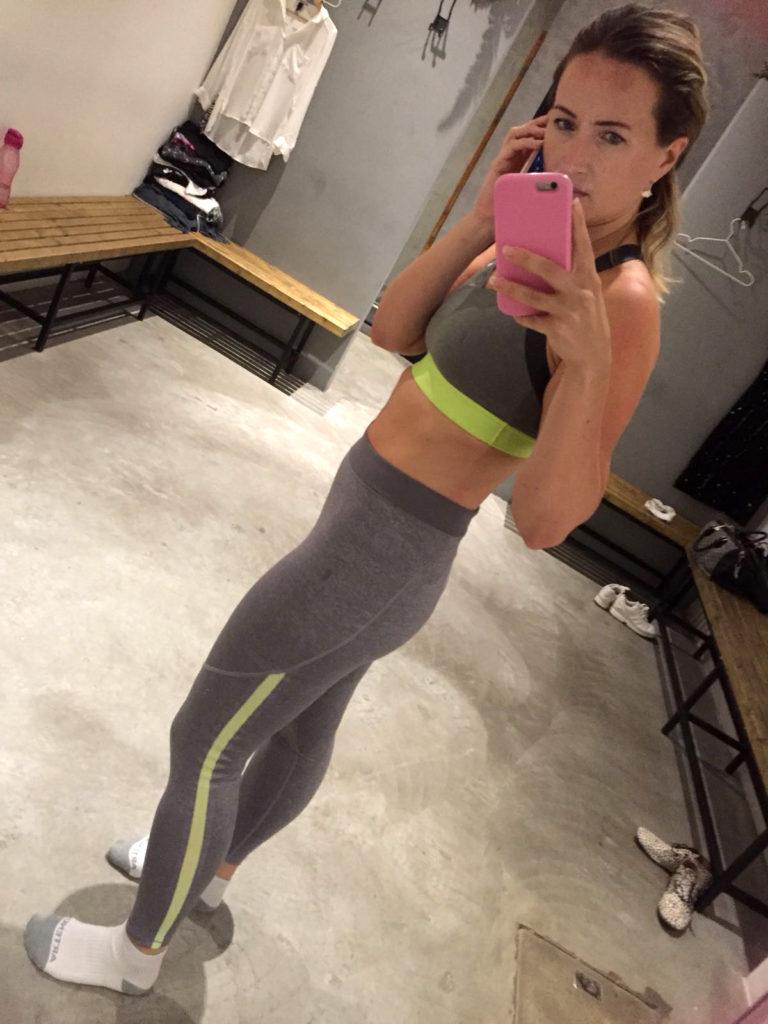 Mental health
Another big advantage was that I started feeling much stronger mentally. The chemicals that were released in my brain due to this healthy lifestyle, kept me safe from PMS and other dips that I was so used to living with. I felt invincible!
Bootcamp
In the fall of 2017, Karen stopped working in Amsterdam and I decided to take on a new challenge. I submitted to joining a hardcore bootcamp, that was organized by my gym. Attending the bootcamp was the entry ticket to next level classes and I thought this would be a sufficient replacement for personal training. In the meantime I was training for the marathon of Palestine, which would take place in March 2019.
The combination however, was not a smart move. By the end of 2018 I was suffering from mild heel spurs and my shoulder started aching from extensive training with kettle bells, without personal attention to my personal capabilities. So I started seeing all kinds of therapists again, got shock wave therapy and shoulder treatment. Of course I should've just taken a rest, but I couldn't give up on my dream of running the Freedom of Movement Marathon in Palestine. I'd started a foundation (Run 4) and raised many donations for our charity. I had to run!
Marathon of Palestine
The trip to Palestine was exhausting (wonderful, but exhausting) and my foot was completely stiff by that time. Every morning I woke up I could hardly walk. And my shoulder was officially frozen, making it very painful to run. So in the end I ran only half a marathon (slowest pace ever) and destroyed my heel completely.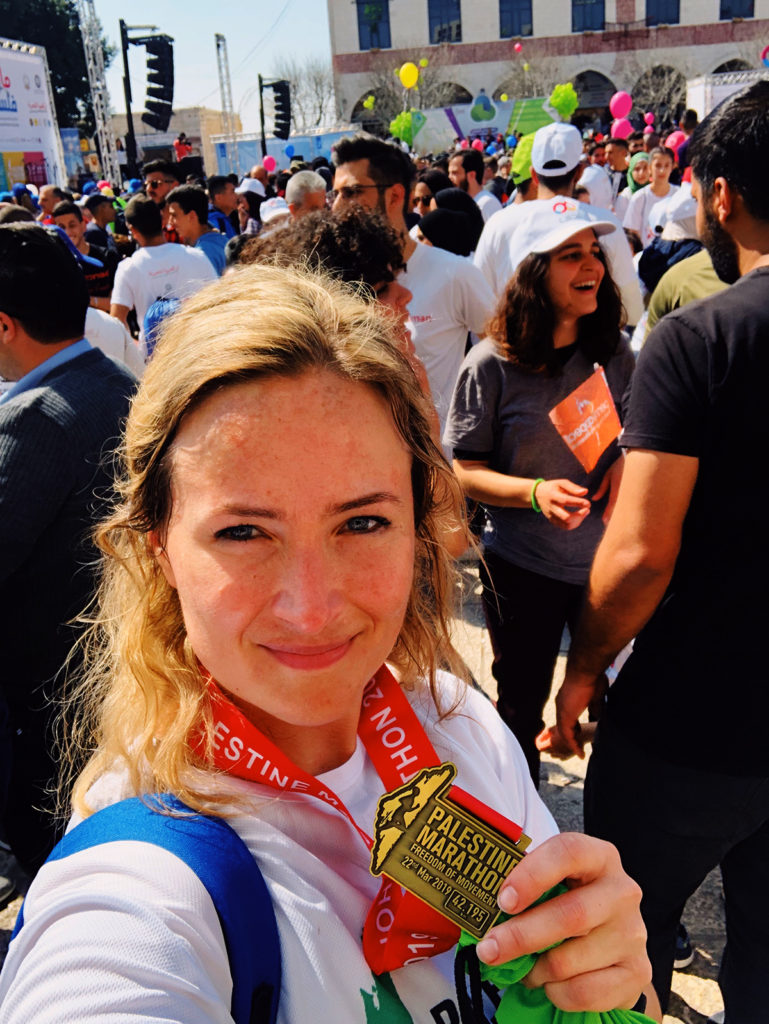 8 month recovery
In the months that followed I had to recover from both injuries with intensive physiotherapy. In the start I still tried training a little bit, but eventually it turned out to be wiser to skip both running and weights until my body was healed. I got sloppy on the diet and started getting my old moods again. I felt miserable for a while.
Fitjourney 2.0 – Starting over
Now it's December 2019 and both my foot and shoulder feel good enough to go again. But starting up wasn't easy. So I decided to change gym, get a new personal trainer and invest in smart recovery and becoming fit once again. This time I won't overdo it. PT Anne (yes my trainer is Anne too) made me a schedule that involves exercises to strengthen my back (so my shoulder won't over compensate), strengthen my core and breathing exercises. I will commit to 3 training hours per week and another 3 sessions of bikram yoga, where I can work on my balance and strengthening my ankle.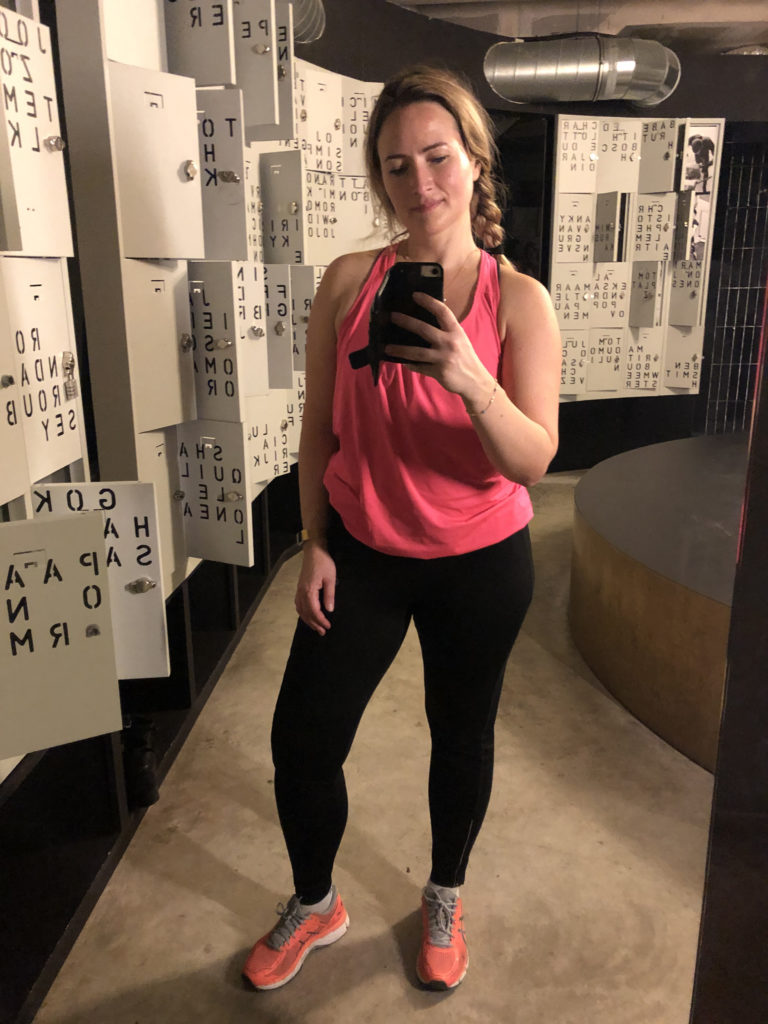 The training makes it easier to stick to tracking my food again as well. I know, from my earlier experience that my ultimate calorie intake for weight loss is 1.400 per day and that will be it. All I want is to feel strong again and trigger my system to produce all the chemicals again that make me feel happy. Wish me luck!